Minneapolis Community Outreach
The needs are huge here in Minneapolis
and we continue to learn more
We are learning a lot of people are without housing right now because their homes or apartment buildings were burned during the recent riots, and they are living in shelters or on the street. There is now a huge homeless encampment that has started at a park just two blocks from our church building. So Hope Temple (Foursquare Church) decided to setup a daily distribution of canned goods and boxed food from its location.

In the past month, Hope Temple hosted two community outreach events to distribute many daily needed items like, diapers (all sizes), wipes, baby cereal and formula, detergent, dish soap, hand soap, deodorant, shampoo, body wash, toothpaste, cleaning supplies and also food. We had people patiently waiting in line that was about three blocks long! We ran out in about an hour and believe that in 1 hour we served 500 people, and possibly more.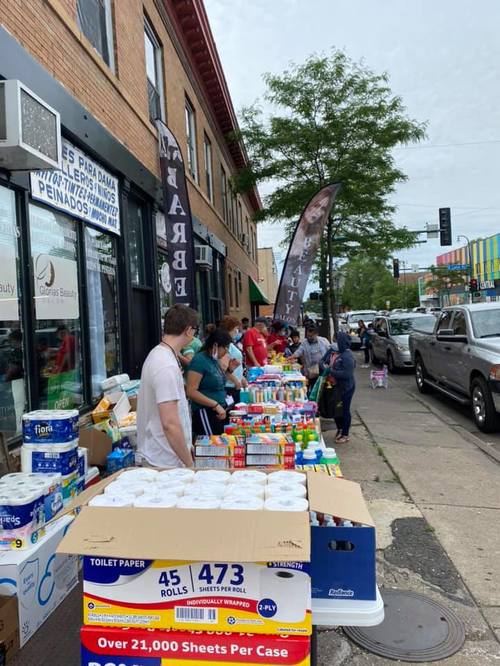 As soon as we would pray…
One minute we are out of size 2 diapers and then we pray for God to provide more diapers and someone will show up with a grocery bag full of size 2 diapers to donate. We ran out of formula, we began to pray for it, and a couple arrived with a bag full of formula to donate. It was amazing!

One of our pastors was able to speak with a Muslim man whose son is sick and in the hospital. When our pastor asked this man if he could pray with him he said no because he is Muslim. So the pastor continued and asked if he could pray for his son and the man said, "yes please pray for my son."

At the church, part of our team was able to pray with people. One of the women didn't even come for the groceries. She saw our sign offering prayer from the road and wanted to stop. As the team prayed with her, we witnessed the countenance of her face changing. When she first arrived, she was discouraged and sad, and by the time she left she was smiling and laughing. Our church has continued to stay in touch with her, and we believe God truly touched her that day.

On Lake Street, we had pairs of people walking, passing out Bibles, praying with people and showing Gods love. A woman approached our team, and asked if she could have a Bible. She told them that she had been wanting one for a long time but couldn't get her hands on one. As our team handed her a Bible she began to cry! She was so happy to have her own Bible. God is so good!
On behalf of Hope Temple, I want to say a special thank you to all who have partnered with us, giving donations, providing financial support, praying and serving. We could not have done this without you! We've had people from around the world donate money, we partnered with four local churches who served at the outreach, and multiple businesses, organizations and churches from around the country and the Heartland District have donated supplies and finances to this outreach. The Barron Foursquare (WI) and Spicer Foursquare (MN) Churches not only donated, but sent volunteers to help serve. A true Kingdom effort by many--THANK YOU!
Hope Temple will be hosting their third large distribution outreach
on July 11th, 2020
. Below are how you can get involved:
We are collecting specific items: Diapers (all sizes), wipes, baby cereal and formula, detergent, dish soap, hand soap, deodorant, shampoo, body wash, toothpaste, cleaning supplies and food (not canned goods or boxed meals).
We also need financial support but prefer items if people are close enough, or can send through amazon because otherwise we have to do the shopping. But we would never say no if people want to give!
We welcome more people to come serve, but the space we get to be on lake street is not very large so we can only take 10-15 people at a time. We would simply rotate those serving in shifts. We are also in great need of people who speak Spanish!
Pray for our team! Please pray for strength to keep this going, ears to listen to the Holy Spirit, boldness and grace and peace. We want to be giving with love while extending grace and patience for all we are serving.
Pray for the people of Minneapolis! We so desperately want them to know that they matter, God sees their needs, that God is the one who will supply all their needs, that there is hope in Jesus and we want to see change and revival in our city as God tears down barriers and strongholds.
To get involved or donate, please contact
Laura Lozano
at revlozano@gmail.com, (612) 721- 2757 or via the
Hope Temple Facebook Page
.
Written by Laura Lozano, serving as an Assisting Minister at Hope Temple in Minneapolis, MN, and Chad Garrison, HD Foursquare