ARE YOU READY TO START A CHURCH?
That we are A Movement With A Message On A Mission.

That God is reviving the Apostolic gift in the Body of Christ and the Pastor/Shepherd's are being refreshed with new vision that new community groups may be established of every possible form for His Glory and to build His Kingdom on earth.

That people will hear the Good News, broken hearts will be healed, and people will be freed from oppression and social injustice.

That people will find a place of acceptance; grow in love toward God, neighbors and themselves.
Click here to view more information about the church planting process.
Church Planter Application
You will be redirected to our MultiplyEastCentral website. Where a wonderful team of people will connect with you and walk with you through the process to get started planting a church.
Church Plant Funding Model
Click here to view more information about our church plant funding model.
How to become a Foursquare Church
This video explains the process and values of a new church plant becoming a subunit of the Foursquare Church.
Riverbend Community Church
The Sower Foursquare Church
Centro Cristiano de Alabanza
Center for Living in Christ
Centro de Vida - Sioux City
Emmanuel Praise Ministries
VERNON & CHERYL WILLIAMSON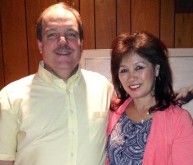 Davenport Yullin Gospel Church
Centro de Vida y Esperanza
MAURICE & SHANTEL GHOLSTON
BRANDON & TAMESHA DARRELL
Centro de Vida - Estherville
River City Community Church
Good Reads for Church Planters